What is IM Mastery Academy?
I consider myself to be a pretty financially savvy person. Scrolling through TikTok I came across this person who was showing off how they had multiple streams of income, including day trading, and it was so easy that anyone could do it.
The finance lover in me has always been interested in day trading, so I took the bait and joined the Facebook group. Where I eventually learned it was something called IM Mastery Academy. But what is that? And is it worth trying out? And how exactly is this group making money?
As a reminder, I have an MBA, I am a Certified Public Accountant (CPA), and have almost 15 years working in finance and accounting. These are my opinions. However, this is not legal, financial, or tax advice. This is me presenting facts and my opinions to help you decide if you think this is something you should spend your time doing. If you need legal, financial, or tax advice, you should reach out to a professional for a 1:1 chat!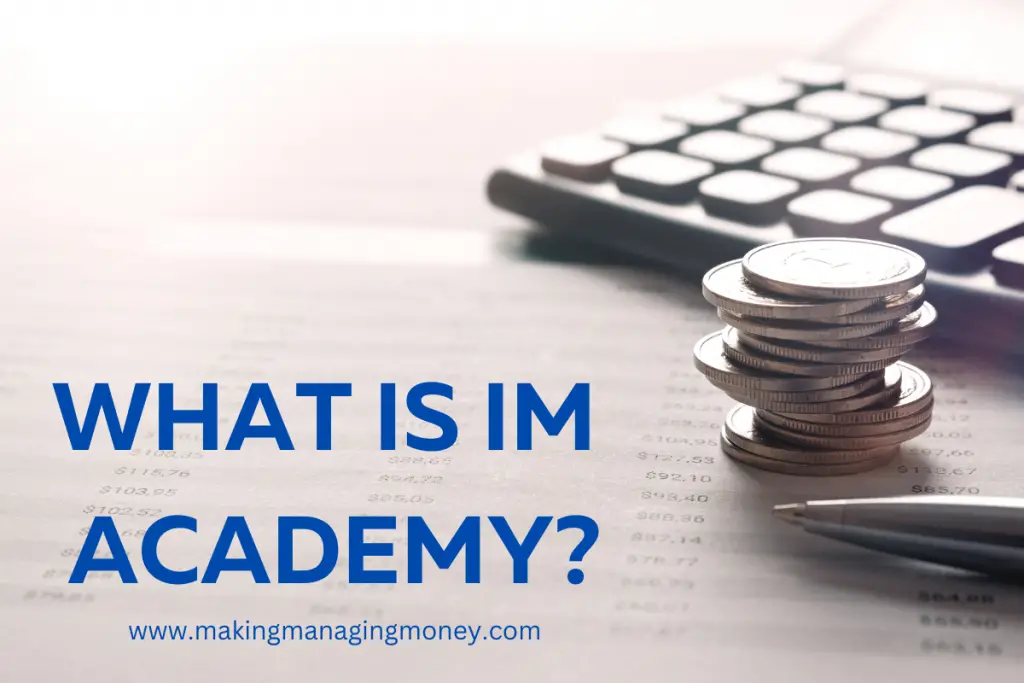 What is IM Mastery Academy?
IM Mastery Academy is a Multi Level Marketing (MLM) company that sells training and education on Day Trading. As I stated, I was recruited to a Facebook group. In that group, they claim you can make a full-time income for 4 hours per week. This is done by compounding your balance over time. They used compounddaily.com to demonstrate how compounding interest can add up quite quickly! At face value, it looks super interesting and tempting. By making 2-3 trades per day, you can eventually achieve a full-time income in only 4 hours per week. IM Mastery Academy is selling you the education, then you'd open up a separate investment/broker account to start trading. However, as the saying goes, if something is too good to be true – it usually is.
How much does IM Mastery Academy Cost?
To get started with IM Mastery Academy you have to select one of five academies, Elite Academy, FRX Academy, HFX Academy, DCX Academy, or ECX Academy. Every academy except the elite comes in with a steep price tag of a $184.95 enrollment fee, plus a $174.95 monthly fee after that! The Elite comes in at a $324.94 enrollment fee followed up by a $274.95 monthly fee. However, you can also click here for the most current prices.
What is the purpose of IM Mastery Academy?
The IM Mastery Academy is educational and is designed to educate you on different markets. The end result is that you can become a day trader to meet your financial goals. Whether that is some extra funds to pay off debt or ultimately living off the daily interest earned.
FRX Academy is instructional on foreign exchange markets.
HFX Academy teaches you how to trade in high-frequency markets such as commodities, indices, bonds, metals, and currencies.
DCX Academy focuses on digital currencies
ECX is an eCommerce course that claims to teach you how to create a store, find and sell products with no need for inventory
Hidden Costs of Day Trading
While the opportunity of Day Trading sounds amazing, let's just talk about some of the hidden costs associated that come along with it.
Brokerage Fees – depending on the type of brokerage account you set up, there will likely be fees associated with various transactions
Capital Gain Taxes – being a Day Trader opens you up to different types of taxation. Because you're buying and selling these assets in the short term, they are considered short-term capital gains which are subject to a higher tax rate than long-term capital gains. This is not something that was mentioned in the opportunity call I was presented with, but something you should look into if you're considering IM Mastery Academy or any Day Trading activities
Access to Software – you'll need access to charts and other informational software when Day Trading. You appear to get this all through IM Mastery Academy, but you can also get these same services in other places, and here is an article that can help you with that.
Is IM Mastery Academy a Pyramid Scheme?
The FTC does not define MLMs as Pyramid Schemes because they are selling a service or product. With all MLMs, it is very hard to say what population of the company's sales come from the independent consultants paying their fees or buying a product vs. a customer that is not associated with the MLM. If MLMs are primarily making money off the consultants they get to participate in the program, this would be a signal of pyramid scheme territory. See more information on MLMs: Why Do People Hate Multi Level Marketing (MLM) and Network Marketing?
Is IM Mastery Academy an MLM?
IM Mastery Academy is a Multi-Level Marketing (MLM) company. This only covers the educational component of this. The brokerage account will be separate from the Academy. Why is it important to know this? Well, this Academy is not cheap, it is quite expensive for a subscription service. The people selling this Academy discuss their lifestyle and how they can afford to only work a few hours a week to make a full-time income. But keep in mind, they may be making money off the MLM and not just from trading and applying the information that they are selling. Also, keep in mind you will need to spend a lot more than 4 hours a week in these classes learning to be able to master the markets. If it was truly simple to earn money day trading, everyone would do it!
What are Alternatives to IM Mastery Academy Education?
If you're interested in learning about Day Trading, there are some great free resources out there to try before making such a large financial commitment:
How Much Can You Make Selling IM Mastery Academy in the MLM?
If you do join IM Mastery Academy, you have to know that you are joining an MLM team, and with that, there is always going to be motivation to pressure you into selling the product. According to their income disclosure, the top 50% were paid about $225 annually, which barely scratches the surface in terms of recovering costs identified above. As with all MLMs, the majority of participants are at the bottom of the pay scale with about 95% of the people participating in the bottom tiers of the compensation plan, earning nowhere near the amount of money needed to recover their Academy fees.
Wrap Up
If you liked this article, it would mean a lot to me if you would check out my YouTube channel. You can also find me on Instagram to share any feedback you may have on the info above! Thanks!