How to Monetize Your Social Media Following
You've worked hard, you've taken selfies, posted videos, and amassed a social media following. So, now, how can you monetize it?
By building a large audience that trusts you, it opens up a ton of opportunities for monetization. Let's just take a quick high-level look at some of your options.
As a reminder, I have an MBA, I am a Certified Public Accountant (CPA), and have almost 15 years working in finance and accounting. These are my opinions based on researched facts and my understanding of those facts. However, this is not legal, financial, or tax advice. If you need legal, financial, or tax advice, you should reach out to a professional for a 1:1 chat! All opinions are my own.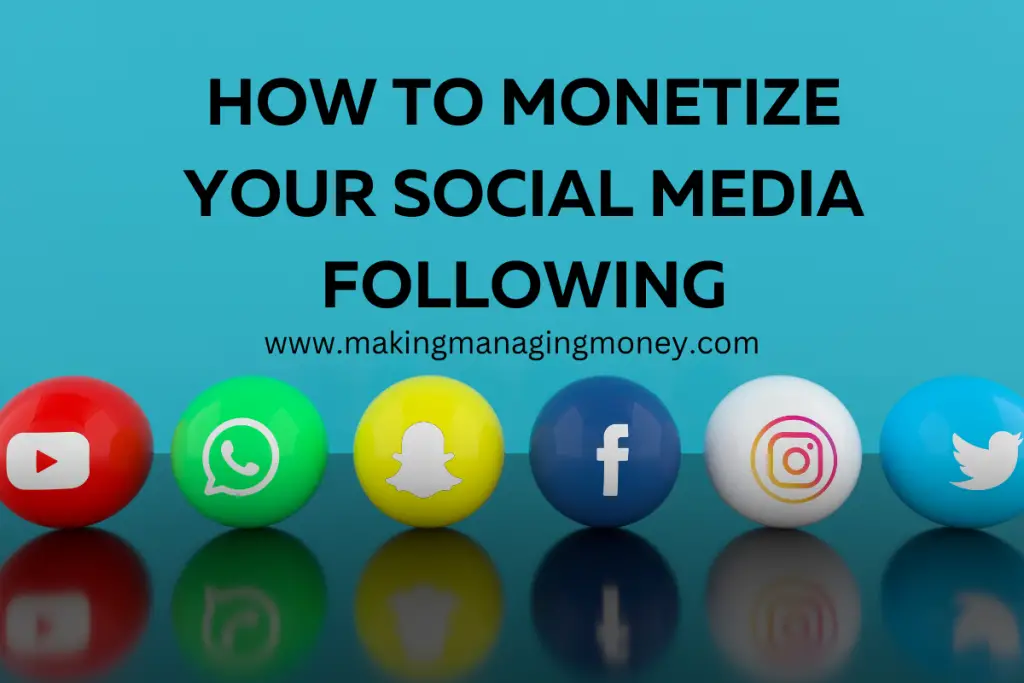 What is Affiliate Marketing?
Affiliate marketing is where you refer your audience to a product with a specialized link. If they purchase the item from your link, you receive a small commission on the sale of that product. There are many different options to explore for affiliate marketing, but here are a few:
Amazon Associates – most people use to buy from Amazon, so it makes sense as an affiliate marketer that you'd want to be an affiliate there. You need to comply with their terms and conditions and make 3 sales within 180 days. But it is very easy to apply to and a great place to start dabbling in affiliate marketing.
ShareASale – is an affiliate marketing company that works with companies like Etsy and Groupon.
Commission Junction – works with companies like Barnes & Noble, Blue Apron, and Office Depot
Many many more. If you have a company that you like working with, just head to their websites, like Michael's or Best Buy. Typically if you scroll all the way to the bottom of the home page, you'll see a link that says "Affiliate Program". That will get you started down the road of getting your affiliate journey underway.
Sponsored Brand Posts
Once you have a following, you may be able to work with brands to create sponsored posts. This is when they pay you an agreed-upon fee to promote their brand. This can be something more formal like a commercial you see in some YouTuber's videos. Or it can be more subtle, like on TikTok you can see someone preparing an entire skit not too far off from what they normally would, but the product is front and center. Or it could be a post on Instagram or Facebook talking about how much you love a specific product. How much you can be paid for the brand deal will depend on your audience, niche, views, etc. Here is a very detailed article that goes through types of influencers and earnings potential.
Patreon
Patreon is a platform where you can create tiered memberships to provide subscribers with exclusive content. Many different types of individuals use Patreon to connect with their audience and give their audience an additional way to connect and support them. Youtubers, artists, podcasters, writers, and many other people create Patreons. If you have developed a loyal audience, who can't get enough, you can consider creating a Patreon. The benefit of Patreon memberships is that it is a recurring income stream.
Info Products
If you've built an audience, you may have a great opportunity to create an info product or digital download products. Some examples would be:
| If You're Known For | A Potential Info Product Could Be |
| --- | --- |
| Cooking videos | A downloadable cookbook |
| Gardening content | A downloadable garden planner |
| Dance Videos | A dance tutorial course/membership |
| Cleaning Videos | A downloadable cleaning calendar |
You get the idea, if you have a following that values a specific thing you do, there should be an opportunity for you to create something that your audience would value. The most unique example I've seen is a woman on TikTok who had over 1 million followers on her cleaning videos creating a cleaning "recipe" book. How innovative!
Selling Your Own Physical Products
Creating a physical product to sell to your audience is another option. I've seen a lot of TikTokkers selling stickers directly or through Etsy. Also, a lot of people selling physical products use social media to gain a following purposely to market their products. If you have a large following, it is something you could consider. Including making merch that shows off your "brand"! A lot of YouTube channels have Merch stores for this. You can work with a third party that will take the orders, and payments, and ship the merch directly to your following.
Blog or Website Traffic
If you have a blog or website, you can sign up for ad revenue through Google AdSense, Mediavine, AdThrive, or Ezoic. So if you have a following and can direct them to your website, this will increase your advertisement revenue. In addition, while they are there, you can present some affiliate marketing links or get them into a sales funnel for your info product or physical products. Win-win-win!
Creating a Virtual Tip Jar
Another strategy creators take, is putting PayPal, Venmo, and Cash App info directly into their profiles or the link in their bio. You can either directly ask tips from your viewers if they enjoy your content, or simply by them seeing your link they may feel like giving you a cash tip for your content!
You can use any social media platform to utilize the techniques above.  But now, lets chat on platform specific ways to monetize your following!
How to Get Paid by Instagram Content?
I was recently very surprised to learn that you can get paid for posting content on Instagram. You can enable in-stream video ads under your creator account settings. The videos need to be at least 2 minutes long to qualify. Create videos, and then ads will play and you will get a cut of the revenue.
In addition, Instagram offers you the ability to have an online store. You can use this feature to offer products for sale that an individual can buy right through Instagram without ever having to leave the app itself. The simplified user experience can help you close the sale while the viewer's interest is high!
How to Get Paid on TikTok
If you're making content on TikTok and have gained some followers, you likely know about the Creator Fund. To be eligible you have to be:
Have at least 10,000 followers
Have at least 100,000 views in the last 30 days
Be 18 and live in the US, UK, France, Germany, Spain, or Italy
Once you're in the creator fund, you'll get paid for the views on your videos. In addition, you should be utilizing your audience in all the ways above. I did research into How much do TikTokers Make? if you're interested!
YouTube Monetization
In order to get monetized directly with Youtube, there are just a couple of requirements. You must have at least 1,000 subscribers and at least 4,000 watch hours in the last year. While it is only 2 requirements, similar to TikTok, this likely won't be achieved overnight. Once you reach this level, you can apply to be a part of YouTube's partnership program where you gain access to ads on your videos and the ability to set up channel memberships. So keep this in mind if you find a small creator you enjoy, those first 1,000 subs mean a lot to those creators!
Wrap Up
If you liked this article, it would mean a lot to me if you would check out my YouTube channel. You can also find me on Instagram to share any feedback you may have on the info above! Thanks!