LiveGood – A Membership-Based MLM
LiveGood is an MLM that started in 2022 selling Health and Wellness products. Read on to learn more about what LiveGood is!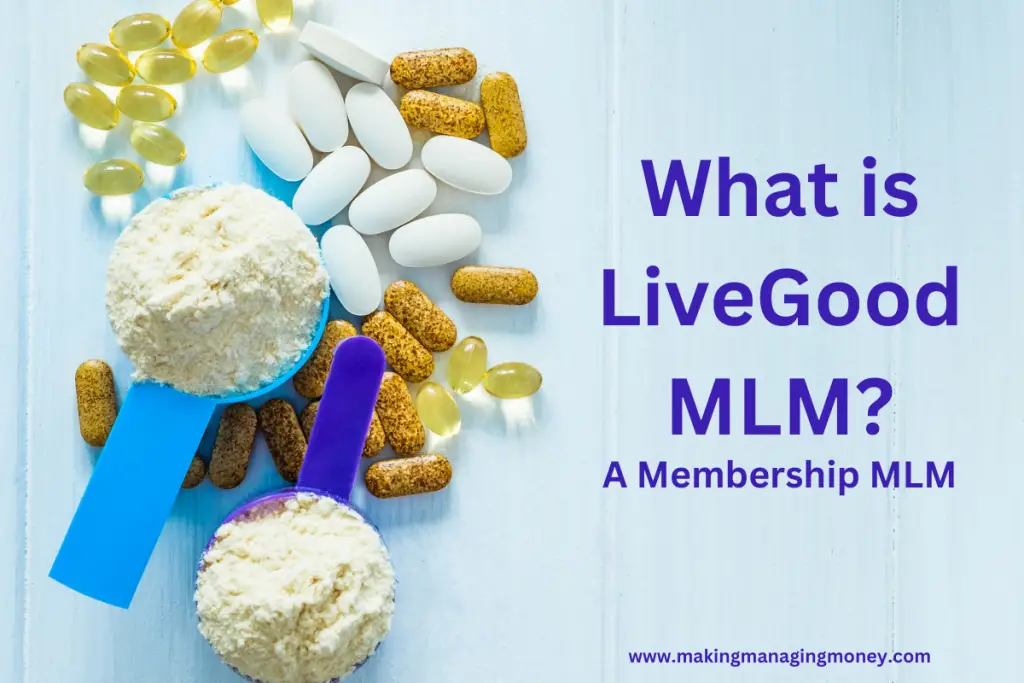 As a reminder, I have an MBA, I am a Certified Public Accountant (CPA), and have almost 15 years working in finance and accounting. These are my opinions based on researched facts and my understanding of those facts. However, this is not legal, financial, or tax advice. If you need legal, financial, or tax advice, you should reach out to a professional for a 1:1 chat! All opinions are my own.
To skip to the compensation plan click here.
What is LiveGood?
LiveGood is a health and wellness company that sells a variety of supplements including vitamins, protein powders, CBD, and more. They promote they have better prices than their competitors and offer a membership program of $9.95 a month or $99.95 for the year to get further discounts on the prices you pay.
Who Started LiveGood?
LiveGood started in 2022 with Ben Glinksy as CEO. According to LiveGood's website, Ben has over 20 years of experience running companies in the Nutritional Supplement industry. According to BehindMLM.com – Ben was also the founder and CEO of Skinny Body Care. Skinny Body Care was an MLM that was launched in 2011 and no longer appears active on any social media site. It looks like it was sold to Valentus Europe in January 2019 based on a Facebook Post by Valentus Europe. Any mention of Skinny Body Care sort of disappears in 2019. Valentus appears to still be an active MLM, despite the Skinny Body Care being phased out.
However, when reviewing the products that are sold by LiveGood, several of the beauty products are "By Skinny Body Care". Which is very interesting. Is LiveGood partially a Skinny Body Care reboot?
At the time of launch, there were also a few other key management positions listed:
Ryan Goodkin, Director of Product Development
Lisa Goodkin, Director of Product Education
Nauder Khazan, Director of Network Marketing
What Does LiveGood Sell?
LiveGood sells a variety of supplements and vitamins. Some of the products they offer include:
Multi-Vitamins
Vitamin D3-K2
Magnesium
Protein powder
Super Greens Powder
Super Reds Powder
Powdered Coffee fortified with Fiber, Maca & Green Tea
CBD Oils (for humans and their pets)
Ammino acid drink mix
Energy Endurance Electrolytes by Skinny Body Care
Instant Youth Wrinkle Cream by Skinny Body Care
Ageless Anti-Aging Serum by Skinny Body Care
Similar products can be found in many other multi-level marketing companies and non-MLM companies.
What is a LiveGood Affiliate?
It's likely an Affiliate that introduced you to GoodLife. They may already be recruiting you to be an affiliate. LiveGood is a multi-level marketing company (MLM). MLMs distribute products through independent salespeople. I wrote an in-depth article on what MLMs are here.
Can You Make Money in LiveGood?
You can earn money in six different ways according to LiveGood's compensation plan.
Weekly Fast Start Commissions – Bonuses on people you recruit (or your downline recruits) who become both members and affiliates
Matrix Commissions – These are commissions on the monthly $9.95 membership fees of those in your downline/matrix
Matching Bonuses – Additional bonuses paid up to 5 levels on the membership fees of those in your downline/matrix
Retail Commissions – If someone purchases a product without having a membership and pays full price, a commission is earned on the difference between the retail price and membership price.
Influencer Bonuses – Additional retail commissions if certain retail sales volumes are hit
Diamond bonus pool – all diamond-ranked members will split a bonus that is worth 2% of the total company sales each month
How Do You Rank Up In LiveGood?
The rank requirements are listed below. Active members are members who placed an order for the current month.
Bronze – 2 personally enrolled active members
Silver – 10 personally enrolled active members or 3 separate enroller tree legs each with a Bronze ranked Affiliate, plus a total of 20 active members in your team.
Gold – 30 personally enrolled active members or 3 separate enroller tree legs with a Silver-ranked Affiliate, plus a total of 100 active members in your team
Platinum – 100 personally enrolled active members or 3 separate enroller tree legs with a Gold ranked Affiliate, plus a total of 500 active members in your team
Diamond – 3 separate enroller tree legs with a Platinum ranked Affiliate, plus a total of 2,500 active members in your team
To reach a diamond rank, you must have 2,500 active members in your team. To reach these levels, there will be a large focus on recruiting both members and affiliates to your matrix. So if you sign up to work for LiveGood, you must focus less on selling products at the retail price, and instead, encourage others to join as members and affiliates to build large teams.
Is LiveGood a Pyramid Scheme?
LiveGood is an MLM that focuses on selling a membership to their company to get reduced pricing on their health and wellness supplements. However, MLMs and pyramid schemes can look very similar. The FTC has an entire article (click here to read) on its website that has a lot of great resources, including questions to ask someone who is looking to recruit you. There is not enough reporting to definitively say if any MLM is a pyramid scheme or not. There is no way to know how many external customers they have unless they offer that reporting up. This is enough reason, in my opinion, to avoid any network marketing company.
Final Thoughts
Network marketing also known as multi-level marketing (MLM) is something you should have a healthy skepticism of (and in my opinion avoid).
It has been proven time and time again that people in MLMs lose money. Review income disclosure statements and this study that was published by the FTC to see for yourself.
I'd love to hear from you if you have questions, comments, or differing opinions. Find me on Instagram, Facebook, or email me by going to my contact page.
LiveGood MLM Compensation Plan PDF
The compensation plan was found here.