Primerica Income Disclosure Statements
Primerica is a multi-level marketing company that recruits people into its organization to sell insurance. After reviewing Primerica's Income Disclosure Statements, you will see you are unlikely to earn any money "working with" Primerica.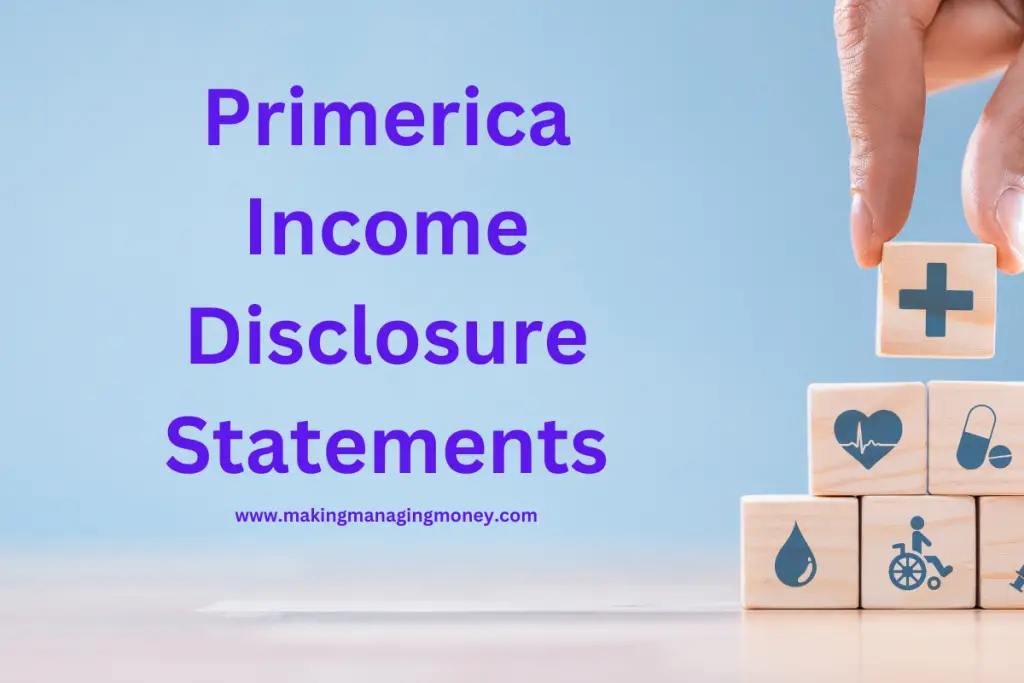 As a reminder, I have an MBA, I am a Certified Public Accountant (CPA), and have almost 15 years working in finance and accounting. These are my opinions based on researched facts and my understanding of those facts. However, this is not legal, financial, or tax advice. If you need legal, financial, or tax advice, you should reach out to a professional for a 1:1 chat! All opinions are my own.
To skip right to the PDF of the Income Disclosures & Compensation Plan Documents – Click Here.
What is Primerica?
Primerica is a publically traded (PRI) financial services company that utilizes a multi-level marketing (MLM) business structure to distribute their products. This means that those that join up to sell Primerica will need to recruit additional members to their team to be able to earn any significant savings from the company. To learn more about MLMs see: What is Multi-Level Marketing?
Primerica Income Disclosure Review
Primerica doesn't have a detailed income disclosure statement at all. They add a few sentences on their website that states the average amount paid to sales representatives each year in the US and Canada. Primerica is also a public company, and therefore we can get some additional reporting on them! Therefore, the chart below also includes their annual revenue and the number of sales representatives they have in the US and Canada.
The figures are startling. This is a company that has had revenue of approximately $2 Billion since 2018 and is approaching $3 Billion. However, on average, their sales representatives are earning approximately $7,000 per year! This is before taxes and expenses.
In 2022, the average sales rep earned $7,479. There were over 135,000 sales representatives as of 12/31/2022. This means that a lot of individuals were earning less than this average amount. Putting them at great risk to be losing money. As it costs money each month to be a part of Primerica. More on that next.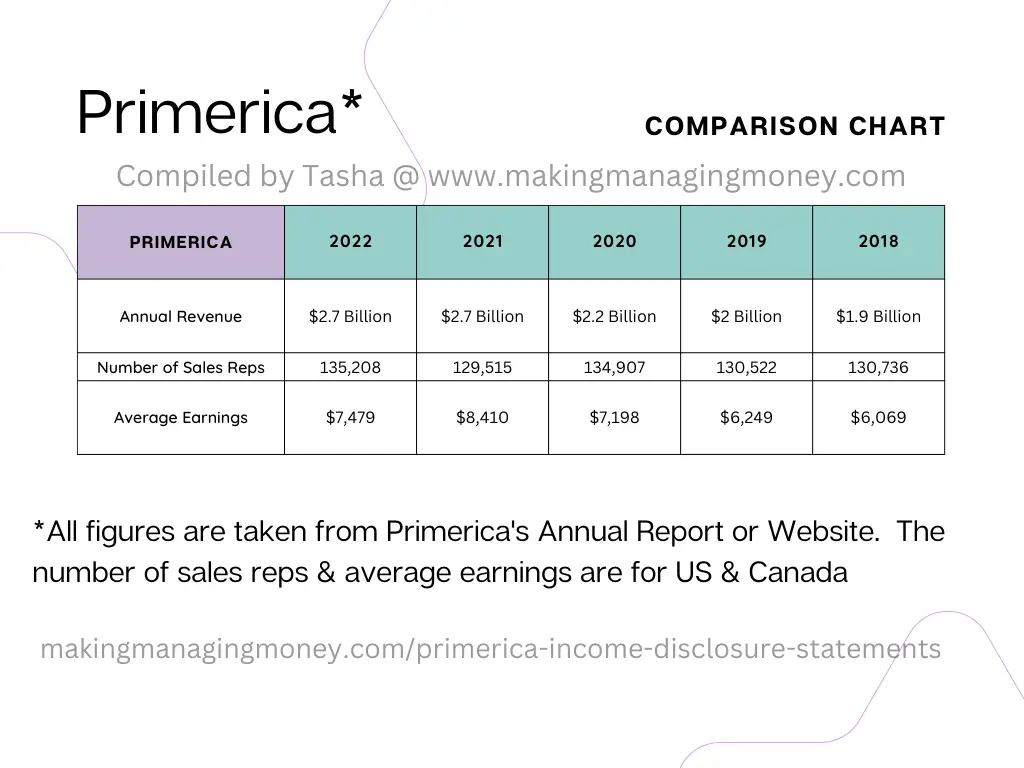 Compensation Plan: https://www.primerica.com/public/primerica_disclosures.html#accordion Click Compensation
Annual Report: https://investors.primerica.com/financials/annual-reports-and-proxies/default.aspx
How Much Does it Cost to Join Primerica?
To be a member of Primerica, there is a one-time fee of $99. Plus there is an additional $25 per month to access Primerica Online. According to several posts on indeed.com and reddit.com – they even make employees pay the costs for the background check before being accepted into the company.
Is Primerica a Good Company to Work For?
After reading all of the above, you can probably understand why I do not believe Primerica is a good company to work for. You have to pay to join. You only get paid a small amount of the sales you make and will be encouraged to recruit others to work under you. As you can see from the average earnings, this isn't a "job" that you'll likely make a lot of money for. Remember, when joining Primerica, you're not going to be a traditional employee making an hourly wage. You'll be an independent contractor. Therefore, joining Primerica is not like a typical job where you earn an hourly wage and earn benefits.
Primerica Annual Reports – Risks Associated with MLM Model
In Primerica's 2021 Annual Report that is published on their website they identify some risks associated with their distribution structure (aka their MLM structure). This can be found on PDF page 14 of their report. The risks identified directly from the report are: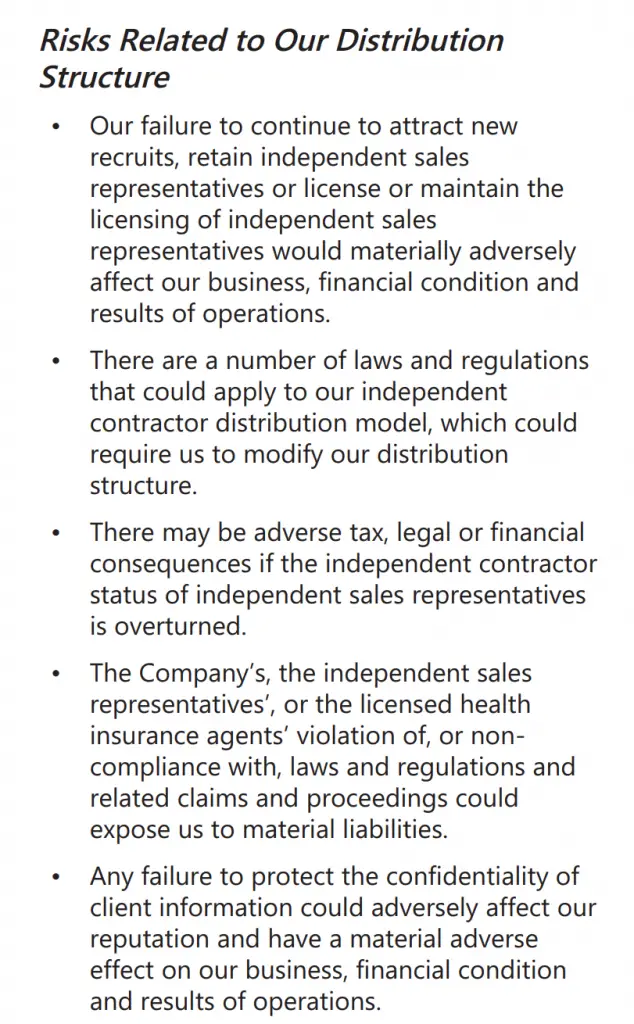 Anti-MLMers Impacting Recruiting
One item I really wanted to hight was their discussion of the the risk around the business model. It demonstrates how negative publicity has potentially been impacting their ability to recruit more into these MLMs. Which is great news. From PDF page 52 or report page 35:
Furthermore, if we or any other businesses with a similar distribution structure engage in practices resulting in increased negative public attention for our business model, the resulting reputational challenges could adversely affect our ability to attract new recruits. Companies such as ours that use independent agents to sell directly to customers can be the subject of negative commentary on website postings, social media and other non-traditional media. This negative commentary can spread inaccurate or incomplete information about distribution companies in general or our Company in particular, which can make our recruiting more difficult.
FTC Business Opportunity Rule
Primerica also identifies that the FTC Business Opportunity Rule is up for discussion (Comments required by January 2023). They are unsure if this could impact their business structure. Depending on the FTC response and reaction to their public comments, there could be impacts on the network marketing industry. If you're reading this before January 24, 2023 – go here to see how you can comment on this Business Opportunity Rule.
Should You Join Primerica?
First, the hard facts come directly from the Primerica income disclosure statements. Those that join the company on average are making around $6,000. Therefore, I do not believe this is worth your time or effort.
After joining Primerica, they will ask you to write down the names of all your friends and family and turn them into leads, which is shown in their Fast Start Team Planner (which I found on Google). You will be risking relationships on a "business opportunity" that according to their own income disclosure statements shows you will be making almost no money. By reviewing this Fast Start Team Planner, you can see their only intentions are to get you to recruit on repeat.
Essientially, your primary job will be selling the idea of selling insurance, not selling insurance.
You may see that Primerica is rated a great place to work. Please keep in mind, this is for their corporate employees. If you sign up to be an independent sales representative, you are not an employee of the company. Therefore, all of their "awards" for being a great employer do not apply to those independent sales representatives.
Primerica Income Disclosure Wrap Up
If you have additional first hand information you can add to this post, let me know. I'd love to hear any experiences, good or bad, you've had with Primerica.
I'd love to hear from you if you have questions, comments, or differing opinions. Find me on Instagram, Facebook, or email me by going to my contact page. I look forward to hearing from you!
Primerica Income Disclosure PDFs
These PDFs were obtained from Primerica's website, however, they overwrite the income disclosure each year. Therefore, you'll only be able to find the latest versions here. But you can find a history of prior income disclosures below that were PDFed from their website.
Click here for the PDFs for each year: 2022, 2021 2020, 2019, 2018, 2017
Misc. Primerica Compensation Plan Documents
I was on a mission to find a copy of Primerica's Compensation Plan, which wasn't simple, but found some interesting documents. All these documents were found publically via Google searches!
Primerica Fast Start Team Planner – this one is interesting and shows how the main focus of this "opportunity" is recruiting others into the "opportunity".
Primerica Compensation Brochure & Promotion Guidelines – details how to rank up