Kendra Scott Jewelry is a well-known company that sells fashionable jewelry that can be found in such department stores as Nordstrom and Bloomingdales. On March 3, 2022, they launched a direct sales program. is Kendra Scott a multi-level marketing (MLM) company?
Kendra Scott Jewelry launched a program called Direct Retail by Kendra Scott. The program launched in March 2022 is a single-level direct selling model. There is no team building, and commissions are based purely on personal sales volume. Commissions range from 20% – 35% based on sales volume.
Why do people hate MLMS? Why Do People Hate Multi Level Marketing (MLM) and Network Marketing?
Check out all the articles I've written on MLMs: MLM Reviews & Info – Managing & Making Money
As a reminder, I have an MBA, I am a Certified Public Accountant (CPA), and have almost 15 years working in finance and accounting. These are my opinions based on researched facts and my understanding of those facts. However, this is not legal, financial, or tax advice. If you need legal, financial, or tax advice, you should reach out to a professional for a 1:1 chat! All opinions are my own.
This site is a participant in the Amazon Associates program, as well as other affiliate programs. As an Amazon Associate I earn from qualifying purchases. This post may contain some affiliate links for your convenience.
What is the Direct Retail by Kendra Scott?
In March 2022 Kendra Scott Launched a Direct Retail sales model to offer products in locations that currently do not have the option to buy jewelry in a physical retail store. This allows individuals to purchase starter kits between $199 and $1499 which allows you to promote and sell to customers either in person or through social media. Per their website, there is no team building and commissions are only on personal sales.
The company also confirmed on Facebook it is not a multi-level marketing model.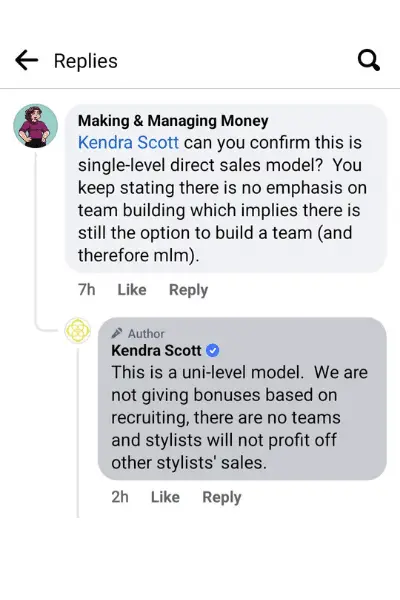 How Much Commission is Earned in Direct Retail by Kendra Scott?
Since launching, Kendra Scott has revealed their commission schedule based on monthly sales. The commission tiers start at 20% and make their way to 35% after reaching $20,001 of monthly sales.
| Monthly Sales | Commission Tier |
| --- | --- |
| $0 – $2,500 | 20% |
| $2,501 – $5,000 | 23% |
| $5,001 – $10,000 | 25% |
| $10,001 – $15,000 | 27% |
| $15,001 – $20,000 | 30% |
| $20,001+ | 35% |
Can You Make Money with Direct Sales with Kendra Scott?
As you can see above, it will be possible to make money off of sales but will need a large volume of sales. At $2,500 x 20% commission, that grosses you about $500, then you need to take into account expenses and taxes. And remember, it is going to cost you at least $200 to get started. You will need to have a large social media audience that converts to sales to make enough sales every month to make a consistent profit. But it could be done.
Pros of the Kendra Scott Direct Selling Model
After reviewing what is available on the Kendra Scott Direct Selling Model, I have found a few good things about it:
The program launched with strategically approved sellers. They are only 12, and they are in states or locations that do not have access to Kendra Scott Jewelry in physical stores. This means they are being thoughtful about supply/demand and not oversaturating any markets. This is not something that is taken into consideration with typical MLMs.
It appears to have an application process that looks like everyone may not be automatically approved. They ask for your name, location, and social handles and even give you the opportunity to include a video explaining why you want to join. In traditional MLMs, this is not the case. Generally, anyone at any skill level or location will likely be accepted into the business.
What is the Difference Between Single-Level and Multi-Level Marketing?
When working for a single-level or multi-level marketing company you are hired by the company as an independent consultant (who will receive 1099 vs. a W-2). But you can see be hired or fired at the company's discretion.
In multi-level marketing, the standard compensation plan only allows you to rank up by recruiting. This means, to be successful you need to recruit more and more salespeople. This doesn't take into account what the market actually needs. In single-level marketing, there is no recruitment to build a team. You don't receive continuous bonuses for having recruited an individual based on their sales amounts. You may receive a referral bonus, but it is much different that the multi-level company compensation plan.
As you can see above, in rolling out this program there are some basic business principles being observed. They are taking into account supply/demand. They are hiring what I assume to be qualified individuals in strategic locations. This is much different than a typical MLM, which will allow almost anyone to join their teams because there are more commissions to be made off the products/services sold to them and by them.
Reasons MLMs are Generally not a Great Business Model
Generally speaking, MLMs are not a great business model for the majority of people who join them. There are definitely people who are successful in an MLM business model. But it is the top few percent.
Most people lose money
MLMs do not take into account supply/demand
MLMs do not make sure they are only hiring qualified individuals
To read more about why people dislike MLMs click here or see the video above.
Wrap Up
If you liked this article, you could check out all my MLM-related articles here: MLM Reviews & Info
It would mean a lot to me if you would check out my YouTube channel. You can also find me on Instagram to share any feedback you may have on the info above! Both of these pages are new, so every new follower, like comment really helps (and makes my day)!
Resources