Olive Tree People is branching out into the United States market in early 2023. Olive Tree People is a MLM in the beauty space. Let's talk about this company, especially if you're thinking about joining.
As a reminder, I have an MBA, I am a Certified Public Accountant (CPA), and have almost 15 years working in finance and accounting. These are my opinions based on researched facts and my understanding of those facts. However, this is not legal, financial, or tax advice. If you need legal, financial, or tax advice, you should reach out to a professional for a 1:1 chat! All opinions are my own.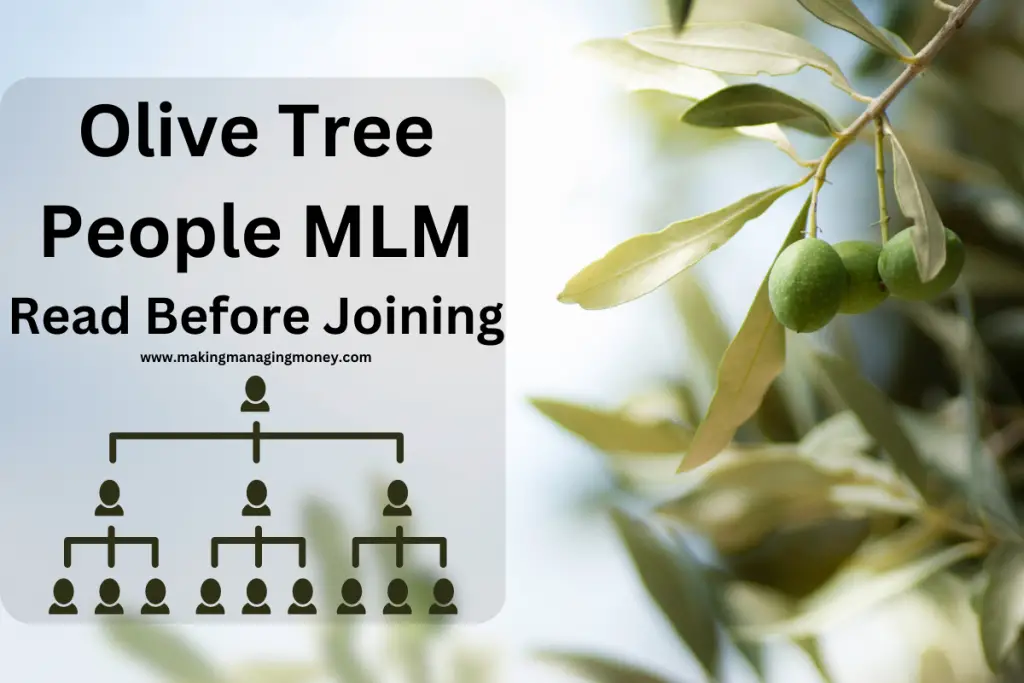 To jump directly to the PDF of the compensation plan and income disclosure click here.
What is Olive Tree People?
Olive Tree People is a subsidiary of Oliveda International. Oliveda was founded by Thomas Lommel in 2003 according to globenewswire.com. The idea was to take skin care creams and serums that were made up of mostly water, to replace that water with an elixir of olive leaves. Olive trees can live up to 4,000 years and use the elixir from an olive tree leaf. You can read more about the idea behind these products right from the founder's "mouth" from their Oliveda Story page.
The company is branching out to the United States in early 2023 by selling its products via a multi-level marketing (MLM) business model. MLMs are a controversial business model where people who sell the product earn the primary portion of their money by recruiting others to sell the product. Read more about that here: What is Multi-Level Marketing?
What Does Olive Tree People Sell?
Olive Tree people sells a variety of products. They fall into the Face, Body, Inside, and Hair categories.
For the Face, they sell cleansers, toners, serums, oils, creams, eye care, and lip care. For the Body, they sell shower gels, bath products, serums, oils, creams, and hand & foot care. Inside consists of Elixirs (like Collagen), and other supplements. And for Hair, they sell shampoo and other scalp care. They also sell sets of their products together.
The prices of the products are more than you would pay in a drugstore or grocery store. For example, the Shampoo is $34.95. Their facial cleansers also start at $34.
Can you Make Money by Joining the Olive Tree People MLM?
Before we get into the details of the compensation statement, I want to bring up two important points I'd like you to keep in the front of your mind:
When reviewing this compensation plan, you'll see the way to make the larger sums of money will be by recruiting and building a team. You can earn money off sales commissions, but it's not how much money will be made.
The Federal Trade Commission (FTC) has warned that 99% of people who join MLMs lose money. So please keep this in mind. I have also reviewed many income disclosure statements and can confirm the majority of people lose or make no money. See the full list here.
You can see the full compensation statement here, but here is a high-level summary of the ways you can make money based on their compensation statement. Please note, this compensation statement is very similar to many other compensation statements I've looked at. Therefore, I would consider this a typical multi-level marketing compensation statement.
One Tree People US MLM Ranks
Before we get into the ways to make money, we first need to understand how to rank up to be eligible for some of the compensation plan. The definitions to understand the requirements are:
PV = Personal Volume = A point value is assigned to commissionable products. PV is the total points earned by consultant purchases or the amount sold to their personally enrolled retail customers in a month.
OV = Organizational Volume = PV of the consultant and all other consultants in their downline/organization.
The Ranks and Monthly Requirements:
As you will see, to rank up, it's all about recruiting. You can rank up to Gold Olive, in theory, without recruiting. But you'd have to be selling a lot of products. Please, do not feel pressured into buying products to earn ranks, because technically, you can buy your way to a Gold Olive based on the compensation plan.
Olive – Requires 50 Monthly PV
Green Olive – Requires 100 Monthly PV and 500 Monthly OV
Violet Olive – Requires 100 Monthly PV and 1,000 Monthly OV
Silver Olive – Requires 100 Monthly PV and 2,000 Monthly OV
Gold Olive – Requires 100 Monthly PV and 3,000 Monthly OV
Black Olive – Requires 100 Monthly PV and 5,000 Monthly OV, 2 qualified legs that have a Silver Olive Ranked Consultant
Olive Star – Requires 100 Monthly PV and 9,000 Monthly OV, 3 qualified legs that have a Gold Olive Ranked Consultant
Green Olive Star – Requires 100 Monthly PV and 15,000 Monthly OV, 3 qualified legs that have a Black Olive Ranked Consultant
Violet Olive Star – Requires 100 Monthly PV and 27,000 Monthly OV, 3 qualified legs that have an Olive Star Ranked Consultant
Silver Olive Star – Requires 100 Monthly PV and 36,000 Monthly OV, 4 qualified legs that have an Olive Star Ranked Consultant
Gold Olive Star – Requires 100 Monthly PV and 75,000 Monthly OV, 5 qualified legs that have a Green Olive Star Ranked Consultant
Black Olive Star – Requires 100 Monthly PV and 162,000 Monthly OV, 6 qualified legs that have a Violet Olive Star Ranked Consultant
One Tree People US MLM Compensation Types
I'm going to keep this very high level. MLM compensation statements are complex, so please see the full document to read all the ins and outs.
Retail Commission Bonus
This is commissions off products sold, pretty straightforward. 25% Base Retail Commission, but the commissions go up to 30% or 35% the more you sell. Straightforward, sales-based commissions.
Fast Start Bonus
This bonus is for the first 60 days and increases the commissions earned on sales.
Team Growth Bonus
Paid monthly if the people in your downline have monthly auto-shipments put in place.
Unilevel Organizational Bonus
This bonus unlocks at the Green Olive Level. It is a bonus based on the monthly sales volume of the Consultant's downline. As you can see, the higher you rank up, the more lucrative it is. But, to rank up, you need to have very large teams to unlock those extra tiers of bonuses.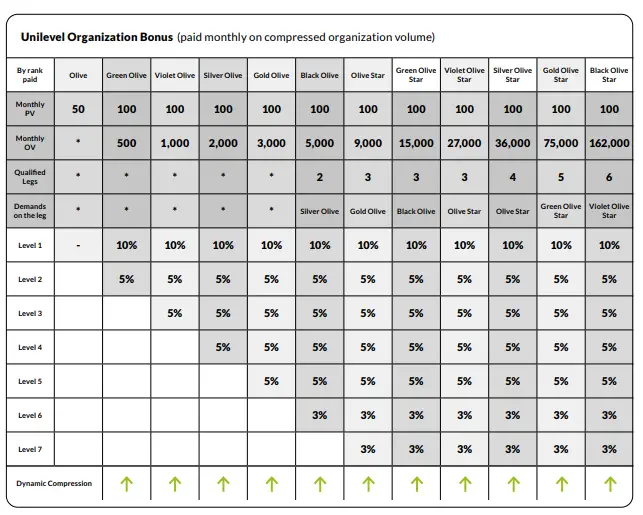 Leadership Bonus
This is a bonus that starts at Green Olive Star and is paid quarterly based on maintaining your highest-paid rank for that quarter. See dollar values below.

My Opinion: Should You Join Olive Tree People?
In my opinion, you should not join any MLM. Typically, when being recruited, you'll be told of all the wonderful opportunities that could be possible by joining a MLM. However, through my review of many income disclosure statements, I can see that only 1% earn any significant income from joining MLM companies.
Instead, if you're looking for a job with some flexibility, I'd recommend checking out Indeed.com or another site and looking for remote work. Or check out Nick Loper's Side Hustle Nation podcast for new side hustle ideas each week that do not require joining a multi-level marketing company.
Additional Resources
Wrap-Up – Olive Tree MLM
Please remember, if it's too good to be true, it probably is! When in doubt, Google the business and find out as much as possible. Please don't fall into the MLM trap.
If you liked this article, you can check out all my MLM-related articles here.
I'd love to hear from you if you have questions, comments, or differing opinions. Find me on Instagram, Facebook, or email me by going to my contact page.
Olive Tree People US MLM Compensation Statement PDF