Is IM Academy a Good Side Hustle to Make Money
Most people are looking for a viable side hustle. IM Academy presents itself as such, but is IM Academy a good side hustle to make money?
IM Academy is not a good side hustle to make money. It is expensive, and the success rate of either selling IM Academy subscriptions itself as part of the multi-level marketing company or in day trading are both very low. Likely, you will not earn enough to offset the subscription costs. In fact, you likely will lose money on top of the cost of the subscription costs.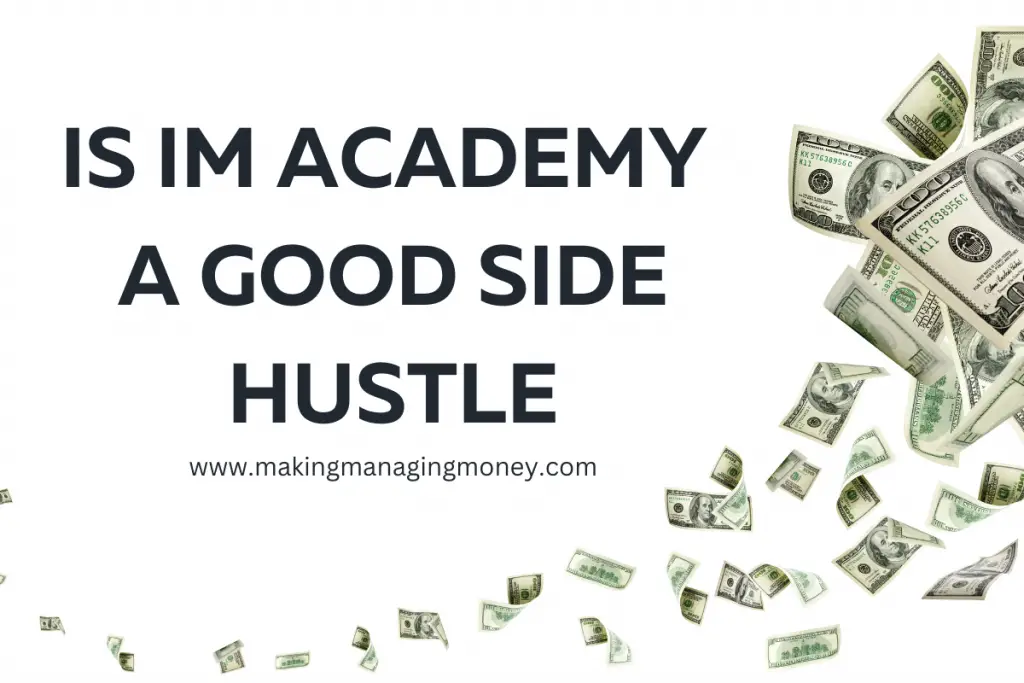 Two Ways to Potentially Make Money with IM Academy
IM Academy is a monthly subscription that provides the user access to training materials on different types of day trading. The monthly subscriptions are fairly expensive around $200 per month. With this subscription, you receive access to courses to teach you how to day trade. So the two ways you can earn money with IM Academy (but neither has high success potential) are:
Day trading – this will be with money above and beyond the monthly subscription charges
MLM – by joining the MLM to sell the product and recruit others to sell the product
We'll talk about both of those more below!
Making Money with IM Academy – MLM
To start this conversation – we need to talk about what an MLM is. MLMs are multi-level marketing companies. A multi-level marketing company is where a corporation works with independent sales consultants. As a sales consultant, you earn commissions based on the more people you recruit. MLMs are often compared to pyramid schemes for this reason. Each multi-level marketing company has different compensation plans, but only the top tiers of the compensation plans are the ones making money. To achieve those higher levels you must have recruited teams of people underneath you. Less than 1% of people make it to these top tiers to make the big dollars. We will review the statistics for IM Academy below.
You might also like: Why Do People Hate Multi Level Marketing (MLM) and Network Marketing?
How Much Do People Make with IM Academy MLM?
If you're being introduced to IM Academy – you're being introduced by someone involved in the MLM. From my experience, those selling IM Academy make reference to how much income they are making from IM Academy but they never fully disclose where that income is coming from (the MLM or from day trading itself). They make it seem like a wonderful opportunity because the more people they can get to join under them, the more money they make!
However, IM Academy does publish an income disclosure statement, so we can take a look based on their own disclosures at how much the sales consultants make on average. According to their income disclosure for the calendar year 2020, 67% of those involved in IM Academy made $165 in the year. This is less than one month's worth of subscription services. Less than 1% of IM Academy Representatives made more than $14,000 in a year, which does not take into account the monthly subscription service fee (let alone any losses from day trading).
You might also like: What is IM Mastery Academy?
Making Money Day Trading
Day trading is the act of buying and selling stocks within a short period of time (oftentimes stocks are held for less than a day, hence the name). The idea is to buy the stock low and resell it at a higher price to make money and then do it all over again with another stock. There are many people who are successful day traders. But, if it was "easy" everyone would do it. In fact, I don't know a single successful day trader, do you?
Many people who get involved will lose money, while it's hard to narrow down an exact figure, the internet seems to agree it's less than 20% of people might be successful. Many people believe it's even less than that.
While it is hard to narrow down what percentage of people will be successful or unsuccessful, there are a few studies that show that less than 1% of people will be profitable in day trading. Which is pretty similar to the percentage of people who would be successful in an MLM as well!
One study about day trading in Taiwan shows that the majority of those involved in day trading-lose money. In addition, those that are unsuccessful with day trading may persist while they continue to lose money.
Another study was done about those trading in the Brazilian equity futures market and showed that only 1% of people made more than the Brazilian minimum wage.
Great Resources for Finding Side Hustles
Is this news not what you were hoping for? Looking for some resources for finding a great side hustle? check out the side hustle nation – Nick Loper (not associated with Nick or his blog/podcast – just a resource I personally enjoy).
Nick Loper has a blog, podcast, and Facebook group. I listen to Nick's podcast every Thursday even if it's not something I'm actively interested in pursuing. There are hundreds of episodes for you to look through. He summarizes the show notes each week on his website. The show always has creative inspiring ideas that do not involve multi-level marketing companies or other get-rich-quick schemes. You will hear about things from power washing businesses, blogging businesses, rentals and so much more!
Wrap Up
Unfortunately, if something is too good to be true, it probably is. Unfortunately, it is my opinion that IM Academy is not a good side hustle to make money with. Those that sell this IM Academy opportunity are trained to make it seem like a wonderful opportunity. This is because the more you spend, the more they make.
I'd love to hear from you if you have questions, comments, or differing opinions. Find me on Instagram or Facebook. I look forward to hearing from you!