How Does GetUpside Make Money?
Upside (formerly known as GetUpside) is a cash-back app that people can use to receive cash back on purchases from participating vendors. This primarily is gas stations and restaurants. Read on more to find out about how Upside works and how they make money. (Click here to jump right to that section)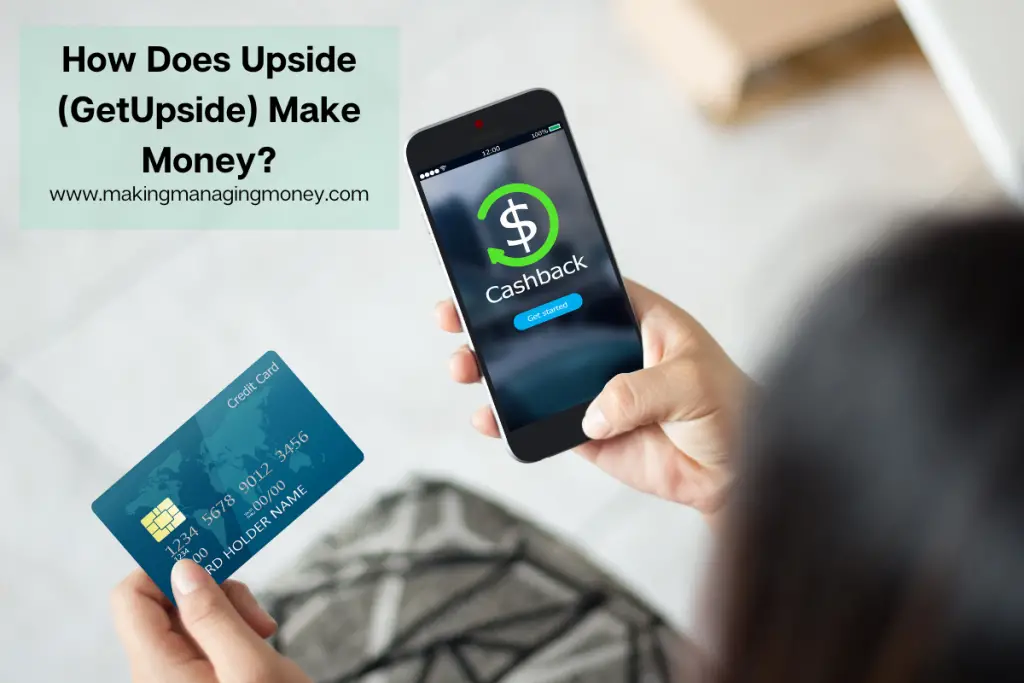 As a reminder, I have an MBA, I am a Certified Public Accountant (CPA), and have almost 15 years working in finance and accounting. These are my opinions based on researched facts and my understanding of those facts. However, this is not legal, financial, or tax advice. If you need legal, financial, or tax advice, you should reach out to a professional for a 1:1 chat! All opinions are my own.
Is Upside the same as GetUpside?
Upside is the same company as GetUpside. The company announced in April 2022 they were rebranding from GetUpside to Upside. This means they are the same company, just with a newish name!
How Does GetUpside Work?
Upside is an app you can download onto your smartphone. Once you download the app and make an account, you can then see nearby offers. When I downloaded the app, I only saw gas stations and restaurants in my nearby offers. However, the website does say it is for gas, dining, groceries, and convenience stores.
Once you find an offer you'd like to take advantage of, you press "Claim Offer". You make the purchase within 4 hours and upload the receipt, and they compute the cash back. Sounds simple, right? But I do suggest before doing that, you click the "More info" button to get the fine print on the conditions of the offer (scroll to the bottom after clicking "More info". For example, I found a gas station that was offering 25 cents a gallon cash back on regular fuel. The fine print lets me know that:
It is only valid if I make the purchase with a credit or debit card.
You must claim the offer before the purchase and make the purchase within 4 hours of claiming the offer
The offer is only valid on the first 50 gallons of gas purchased
If combined with other offers or discounts, the cash-back offer is reduced by 3.5 cents per gallon
The receipt must have the grade of gas purchased, if not, you'll receive cash back on Regular-grade gas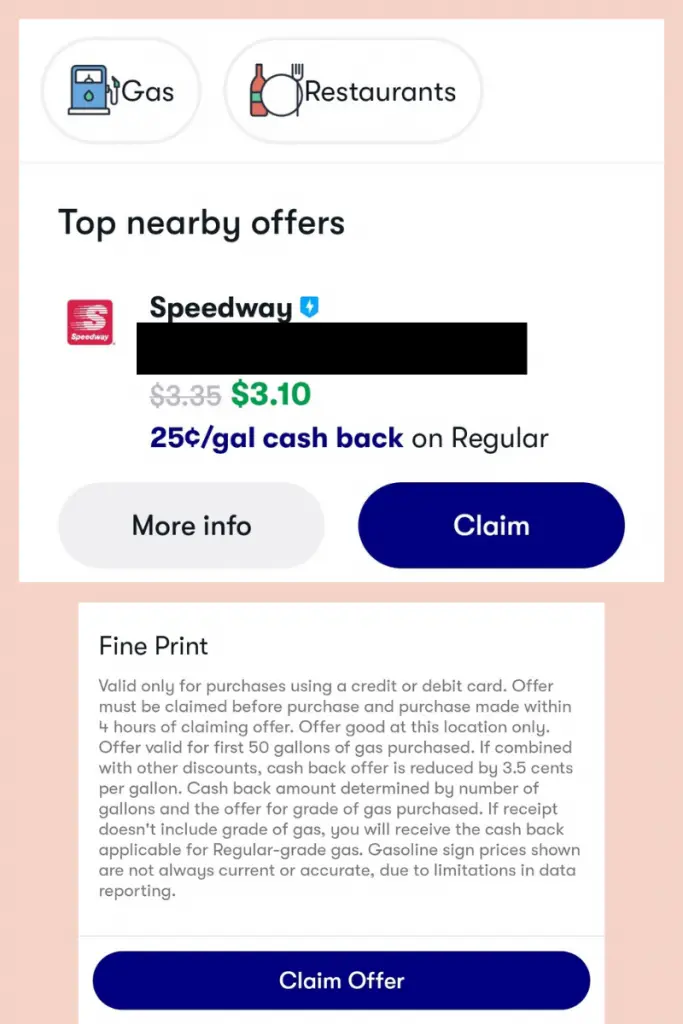 How does Upside (GetUpside) Make Money?
Now that we've seen how you can use the app to get cash back, how does Upside (GetUpside) make money to pay out the users of the app? Every vendor that you find on Upside has entered into an agreement with Upside. While the details of exactly how their program works, they advertise to vendors (the gas stations and restaurants) that they will help drive new customers to their businesses, and they will only pay for business they otherwise would not have gotten. On their site, they state that they use anonymized credit card transaction data to fine-tune promotions.
While it probably isn't as black and white as this, the businesses you are visiting are paying fees that ultimately cover the cash back you received and some additional fees to help make Upside profitable. This is the way that Upside would make money. Upside is basically their method of advertising. So the businesses will pay for the cashback and an additional fee for the services provided. You can find out more details here, and schedule a demo. However, just keep in mind if you're a business looking to be listed on Upside, this will not be a free service.
Is Upside (GetUpside) Worth It?
Is it worth joining Upside (GetUpside) as either a consumer or vendor? This is going to be subjective for each person or business.
Is It Worth Joining Upside as a Business?
On the business side of the house, you'll have to get in touch with Upside to get the exact amounts it will cost you to work with them. They do have some testimonials on their website that talk about why businesses like working with them. One of the testimonials even suggested that businesses start with as little as $50 to see how it goes. The testimonials on their website also stated that the restaurant felt like they were on a team with Upside because Upside only made money if the business did.
I did search the internet pretty thoroughly and did not find any bad reviews from the business side regarding the use of Upside. If you can really commit with as little as $50, with low effort, and could see increased profits – it may be something that works for your business. However, Upside will only be successful if people enjoy using the app, and to say there are mixed reviews out there is an understatement, I get into that next.
Is It Worth Joining Upside as a Consumer?
This is going to be a bit subjective and based on your financial situation, how you like spending your time and money. I've downloaded the app, looked at what is available to me, and to be honest, I'm not sure I'd ever use this app enough to earn enough money to actually make it worth it.
But, like anything else, when I want to know if its worth using or buying, I headed to the internet to find some reviews. There were a few things worth nothing.
Trustpilot has 18 reviews at the time of writing this article, with over 83% being 1 or 2-star reviews.
The company also has a lot of complaints on the Better Business Bureau (BBB) website. Over 515 have complained about Upside to the BBB in the last 3 years. However, I will say that the company has a 100% response rate to these questions, which is a positive. But from reading through the complaints, it seems many people tried other avenues to get in touch with their customer support and only got their issues resolved once they went to the BBB.
It looks like to use the service, you must claim the reward, then go purchase the item and then upload the receipt. You'd likely need to use the app quite a bit for the cash back rewards to add up. So it will depend on who participates near you and then how much time you want to spend to get the cash back.
Based on their negative reviews and complaints with BBB, I'd go in with low expectations.
Wrap Up on How Does Upside (GetUpside) Make Money
Have you used Upside as a business or consumer? What were your thoughts?
I'd love to hear from you if you have questions, comments, or differing opinions. Find me on Instagram, Facebook, or email me by going to my contact page.