Celebrities Who Do Network Marketing 
Networking marketing, also known as multi-level marketing (MLM) is a controversial business model. Let's talk about celebrities associated with Network Marketing/Multi-level marketing companies.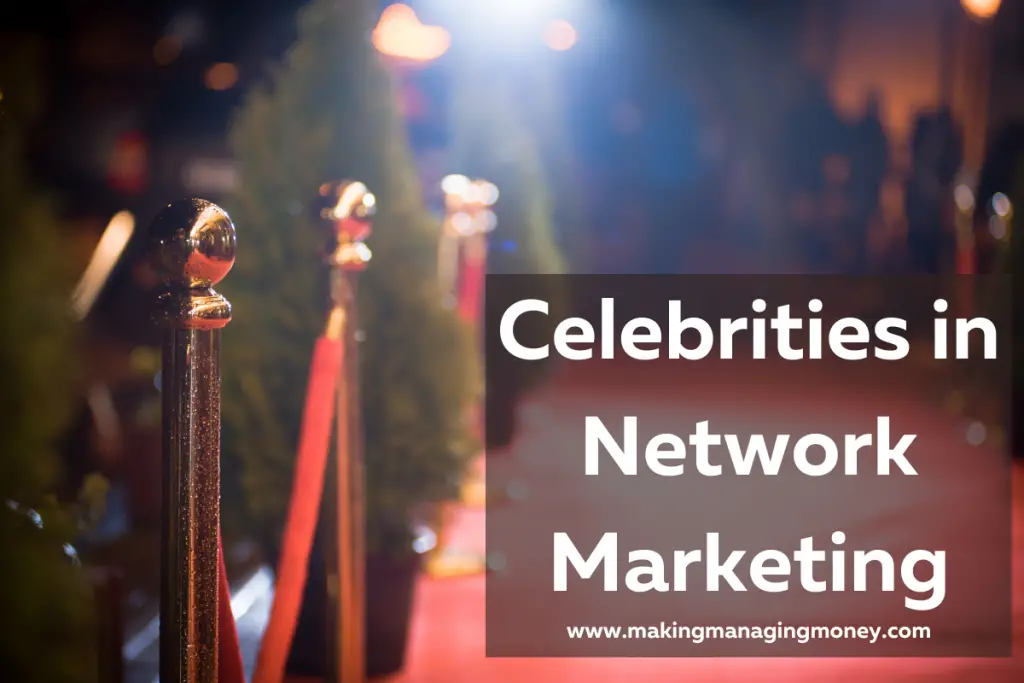 As a reminder, I have an MBA, I am a Certified Public Accountant (CPA), and have almost 15 years working in finance and accounting. These are my opinions based on researched facts and my understanding of those facts. However, this is not legal, financial, or tax advice. If you need legal, financial, or tax advice, you should reach out to a professional for a 1:1 chat! All opinions are my own.
Tori Spelling and Ian Ziering – NuSkin Team 90210
If you grew up in the 90s (like me!) you 100% know who Tori Spelling and Ian Ziering are from the show 90210. If you're a bit younger, then you may recognize Tori Spelling from a variety of reality TV shows she's done. She's publically struggled with her finances, despite coming from a wealthy family.
Tori & Ian teamed up to form a Network Marketing (multi-level marketing) team called Team 90210 with NuSkin. NuSkin is an MLM that sells health and wellness products. It's a $2.7 billion company and on average the sales reps make around $2,500 a year. See more about their 2021 income disclosures here: Nu Skin's 2021 Income Disclosure Statement – Can You Make Money with NuSkin?
Black Chyna – Monat
Blac Chyna is a public figure and model who is also known for having a child with Rob Kardashian. It appears in 2020 she briefly joined Monat. There is no trace of her experience in Monat on her Instagram page, but you can still find old Facebook and Instagram posts by others, like the one below.
For more on Monat: Is Monat a Pyramid Scheme or Scam?
Kailyn Lowry – Scentsy
Kailyn Lowry from Teen Mom 2 sells Scentsy and has since 2011 according to her Consultant bio. She has reached the level of Director of the company according to her bio.
Lynne Spears – Rodan & Fields
While not famous herself, Lynne Spears is the mother of famous pop star Britney Spears. Lynne Spears is involved in Road & Fields (and even has the RF at the end of her Instagram username). Rodan & Fields is a multi-level marketing company which according to their income disclosure statement for 2020:
The average paid Consultant earned $462 annually. Average Consultant earnings show the
average earnings of all Consultants who were paid in 2020.
Cristiano Ronaldo – Herbalife
Cristiano Ronaldo is a famous soccer player. He has had a long sponsorship from Herbalife. There are also social media posts that imply he uses the product (but I'm not sure anyone knows for sure publically). However, Ronaldo does not sell Herbalife.
Sister Wives – Meri, Janelle & Christine Brown
Sister Wives is a popular TLC that follows a polygamist family. Several of the sister wives are dabbling in MLMs.
Meri Brown – LuLaRoe
Meri Brown is actively involved with LuLaRoe. According to her bio on their site, she has been involved for five years.
Janelle Brown & Christine Brown – Plexus
Both Janelle and Christine Brown are involved with Plexus.
Real Housewives Melissa Gorga and Gretchen Rossi
The Real Housewives is a reality TV franchise on Bravo.
Melissa Gorga – Real Housewives of NJ promotes Modere. If you go to her Instagram and select "collagen" you can see her promotion. She has a link with a referral code "wifey" to purchase. I'm not 100% sure of her arrangement with Modere, but it is clear she is promoting their products
Kris Jenner – Mary Kay
Kris Jenner made a post about enjoying Mary Kay products and even stated it was not an ad. However, there is no indication that Kris Jenner sells Mary Kay products.
Adrianne Curry – Avon
Adrianne Curry, winner of Season 1 of America's Top Model sells Avon.
Why Would Celebrities join Network Marketing?
The list above doesn't include any A-List celebrities. As expected, they are likely making money from being celebrities.
So why would lesser-known celebrities join Network Marketing? Due to their influence, they likely have the ability to build bigger teams and rank up quicker than the average person. Creating teams (downlines) gives people a way to gain access to these celebrities and make them feel connected. Their fans feel connected to them, while they make money off of them. In my opinion, this is unethical. Especially given it is well known that the majority of those that participate in a multi-level marketing (MLM) aka Network Marketing will lose money. See more on that below.
Why You Should be Skeptical of Network Marketing/MLMs
Network marketing also known as multi-level marketing (MLM) is something you should have a healthy skepticism of (and in my opinion avoid). Let's talk about some of those things:
The majority of people who get involved with MLMs lose money.
This has been proven time and time again by reviewing income disclosure statements and this study that was published by the FTC.
This study is a little dated, however, I have reviewed many Income Disclosure Statements and find that the results are still valid. See all the Income Disclosure Statements I've reviewed here.
Focus on recruiting those already struggling financially.
Oftentimes, when people are recruiting others on social media, it starts with a relatable story about how that mother was struggling to help support herself or her children. Therefore recruiting someone who is unlikely to have money to spare for a "business opportunity" and will likely lose money.
Uplines Make Money Off Downlines Losses
The way multi-level marketing and network marketing businesses are structured is that those in the upline make money off the sales of those in the downline. Oftentimes, MLMs require a certain amount of personal volume (PV) to stay active in the company. This results in consultants spending money to buy products to remain active. This results in them losing more money while their uplines earn commissions off those "sales"
Lack of Transparency In Where Sales Come From
Currently, MLMs are not required to produce any reporting that identifies how much of their sales come from customers or from those involved with the "business". This makes it very difficult to establish where the line falls between MLMs and Pyramid Schemes
The FTC warns that MLMs and Pyramid Schemes can look very similar.
The FTC has an entire article (click here to read) on its website that has a lot of great resources, including questions to ask someone who is looking to recruit you.
Many network marketers will argue their MLM isn't a pyramid scheme because pyramid schemes are illegal. However, illegal things happen every day until people are caught. I would not give this any merit.
Final Thoughts on Celebrities in Network Marketing
It is my personal opinion that multi-level marketing, also known as network marketing, social selling, etc. is an unethical business model. I think it is even more unethical when celebrities or others with influence join network marketing companies knowing they will be successful but any of the fans they recruit will unlikely be successful.
I'd love to hear from you if you have questions, comments, or differing opinions. Find me on Instagram, Facebook, or email me by going to my contact page.