What is USHealth Advisors?
I was recently introduced to a company called US Health Advisors.  A former co-worker currently is working for the company, which caused me to take a look and see what it was all about.  There are a lot of very negative reviews and experiences documented regarding working for and purchasing insurance from USHealth Advisors. The Better Business Bureau says that USHealth Advisors has been in business since 1959 and they are not an accredited business.
As a reminder, I have an MBA, I am a Certified Public Accountant (CPA), and have almost 15 years working in finance and accounting. These are my opinions based on researched facts and my understanding of those facts. However, this is not legal, financial, or tax advice. If you need legal, financial, or tax advice, you should reach out to a professional for a 1:1 chat! All opinions are my own.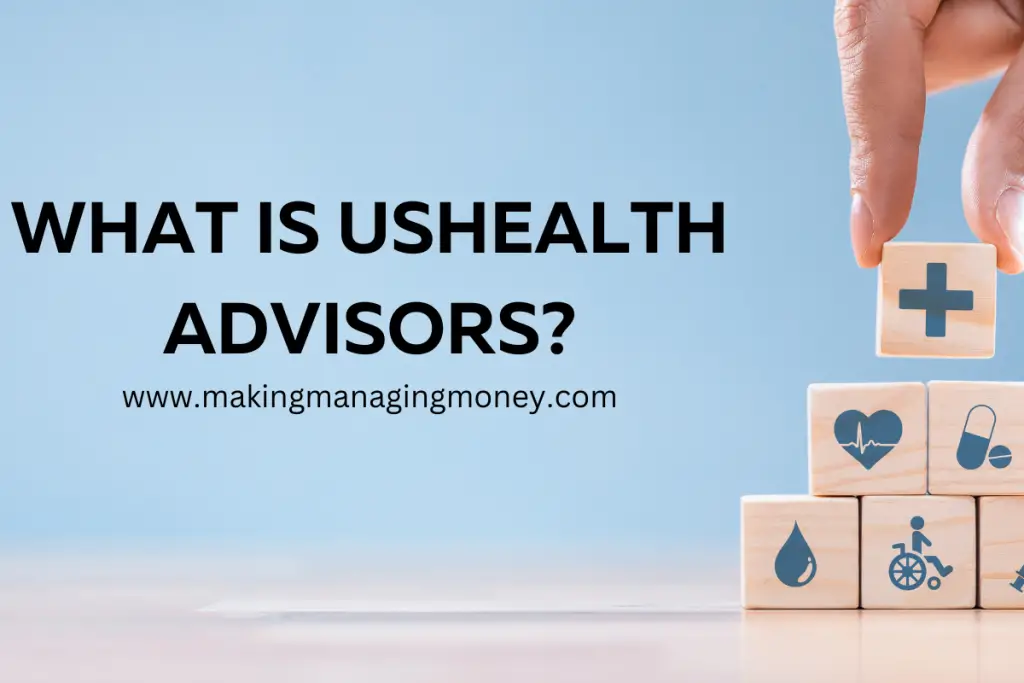 What is USHealth Advisors?
USHealth Advisors is an insurance holding company based in Texas. It is a UnitedHealthcare company and is a subsidiary of USHealth Group. The insurance is underwritten by Freedom Life Insurance Company of America, National Foundation Life Insurance Company, and Enterprise Life Insurance Company. They offer insurance in 33 states. According to their Linked In, they focus on serving individuals, families, self-employed, and business owners.
Is USHealth Advisors an MLM?
USHealth Advisors does not publicly state they are an MLM.  MLM means multi-level marketing company, which is a controversial business model where most participants lose money, you can read more on that here:  Are MLMs Pyramid Schemes?
While USHealth Advisors is not an MLM, there are many things that US Health Advisors have a lot in common with MLMs.  The items identified below come from various sources, including Reddit, reviews on Glass Door, and the Better Business Bureau.  I have included as many of the links as I can below in the references section.
The salespeople recruited for US Health Advisors are independent consultants or 1099 employees.  This means they are not employees of the company that qualifies for benefits or hourly wages.  Payment is based on commissions.
There also seems to be a team-building/recruiting component to the plan.  I can see this on Facebook where there are many pages called Team XYZ.  In their job postings, they also ask for team players. However, their compensation plan isn't public so I haven't been able to review for myself if there are bonuses associated with team size. However, I did see reviews on glassdoor.com that state that you have an "upline that makes money off your sales" (reference #5)
Mentorship claims – in USHealth Advisor job postings they often say that "training is provided with successful mentors". This is also a claim made by many MLMs.
They claim there is unlimited earning potential, which is also a recruiting point used by MLMs
Is USHealth Advisors a Good Place to Work?
Is USHealth Advisors a good place to work? Unlikely, but you should be the judge for yourself Here are some factors to consider if this is a good spot for you.
This is a commission-based sales job, which means that if you do not make a sale, you do not make a commission

Additionally, you have to make the sale and then get the insurance through underwriting. So that means you could sell insurance to someone who is rejected by the insurance underwriters and the sale isn't completed
There is NO MINIMUM amount of money you will make. This means you can work 80 hours in a week, and make $0 if you do not complete a sale

This is not traditional employment, so even though you will be selling Health Insurance, it is not one of the benefits you'll receive from working with this company
No paid time off. As we've discussed, this is not traditional employment and you do not get paid if you don't make a sale – therefore, you won't be getting paid to take a vacation
Sales leads are a super controversial topic in many reviews/posts. The leads you get for free, people say are cold and have been given to others as well. This is also consistent with the stories out there about people complaining they are receiving repeated phone calls from USHealth advisors. To get better leads, you can pay money for them. So for those just getting into the business that are not earning money yet, how can you fund additional leads?
If a sales job in health insurance, with no guaranteed pay and limited benefits interests you, this might be a good fit. I personally, would avoid it. But I am not a salesperson by trade.
US Health Advisors Won't Stop Calling Me!
There are many complaints about USHealth Advisor reps repeatedly calling people over and over. In fact, there was even a class action lawsuit due to people claiming they were telling US Health Advisors to put them on their internal do not call list, but would still receive solicitations.
A few tips to get them to stop calling you:
Ask them to put you on their internal do not call list
If the calls continue, file a complaint on the BBB website
Is USHealth Advisors a Scam?
There are no indications that USHealth Advisors is a scam or doing anything illegal. However, there are many complaints about being a part of their organization and about the health insurance they offer. If you are thinking of joining as a salesperson or purchasing insurance through this company, I strongly encourage you to do additional research to make sure this is a good fit for you.
Wrap Up
If you liked this article, it would mean a lot to me if you would check out my YouTube channel. You can also find me on Instagram to share any feedback you may have on the info above! Thanks!
References