11 Essential Oil MLM Companies
Essential oils (EO) are used for various purposes, including many people using them for alternative medicinal purposes. You'll have plenty of places to choose from when shopping for essential oils. Today, I'm listing out essential oil MLM Companies in case that is a factor in your decision-making process.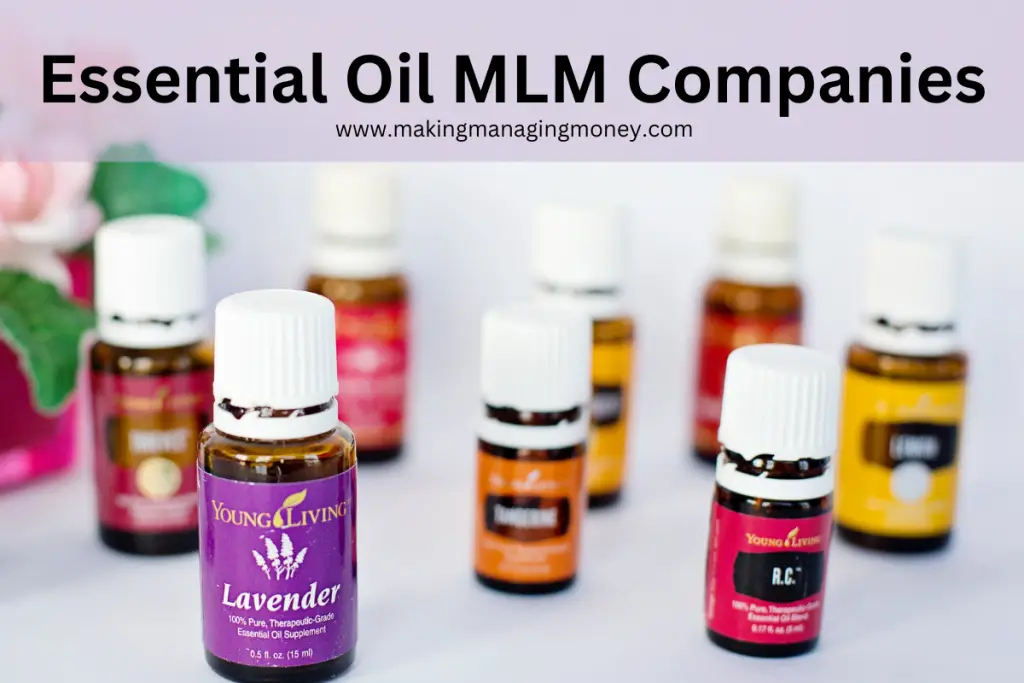 As a reminder, I have an MBA, I am a Certified Public Accountant (CPA), and have almost 15 years working in finance and accounting. These are my opinions based on researched facts and my understanding of those facts. However, this is not legal, financial, or tax advice. If you need legal, financial, or tax advice, you should reach out to a professional for a 1:1 chat! All opinions are my own.
Links to Compensation Statements and Income Disclosures here.
If you're here, you probably already know what a multi-level marketing (MLM) company is. It is a business model where companies distribute their products through independent salespeople vs. more traditional methods such as retail stores. It is a controversial business model, due to the low earnings the majority of participants earn. You can learn more about that here. If you're here looking to join an MLM, I would really recommend you research why MLMs are a polarizing topic before joining.
But no matter your position on MLMs below is a list of all the multi-level marketing companies selling Essential Oils. If I'm missing one, please reach out and let me know!
1. doTERRA
A large, recognizable essential oil MLM company is doTerra. doTERRA was formed in 2008 by former Young Living Executives (another MLM company featured later in the article).
According to doTERRA's limited 2021 Income Disclosure Statement, 50% of first-year distributors earned less than $130 per month (before taxes, expenses, etc.) and 50% of all other distributors earned less than $322 per month (before taxes, expenses, etc.). Of the 227,000 distributors (of 467,000 who ordered essential oils as wholesalers) who earned commissions, about 1% earned more than $1300 per month (before taxes, expenses, etc.) which is only $15,600 annually. Generally speaking, by joining doTERRA you're unlikely to replace a full-time salary.
doTERRA was one of 10 multi-level marketing (MLM) companies that received warning letters from the FTC during COVID as some distributors were falsely claiming that their products can help with COVID.
2. Essanté Organics
Essanté Organics was founded in 2009. They sell a variety of health and wellness products, that also include essential oils.
This longstanding MLM does not have an income disclosure (but I have reached out to see if I can be provided a copy), but if you make your way through this article, you'll notice a common theme amongst MLMs that do, only about 1% of people who join will make significant earnings.
3. Green Compass
Green Compass was founded in 2019 and is a hemp/CBD oil company. So they are not selling your traditional "essential oils". According to the company's LinkedIn in 2023, they have over 16,000 people distributing the products, which they call "Advocates".
They reference an income disclaimer statement in their policies & procedures, but I was unable to find one online. I did reach out to the company and they told me the income disclosure statement wasn't completed, but they were hoping to have it completed soon. I'll update this article if the income disclosure statement becomes available.
4. HB Naturals
HB Naturals or Heart & Body Naturals is a multi-level marketing company that was founded in 2018. This makes it one of the newest essential oil MLM companies I found. The company offers many different oils and has many different blends/packages.
According to their compensation plan, they are a binary model. Their income disclosure (at the end of the document) is set up in an unclear way, so you can't tell the percentages of those that join with intention of earning money. But you can see it is only a small percentage of people in the top tiers earn significant funds. More on that here.
5. Jordan Essentials
Jordan Essentials was founded in 2000 as another health and wellness MLM, which also sells essential oils.
The company doesn't have an income disclosure statement, although I have requested a copy directly from the company.
You can find their compensation statement along with a lot of other summaries here: https://jeuniversity.com/business-document-center/ Consistent with other MLMs, the more people you recruit to your team, the additional bonuses are unlocked.
6. Melaleuca
Melaleuca was formed in 1985, which makes it the old of all the essential oil MLM companies I've found. They sell many products under different brands, including Pure essential oils.
According to their 2021 income disclosure statement, about 90% of people who sell the product are at the Director/Director 2 level, and on average earn $2,116 per year. This is before any taxes, fees, and expenses.
7. Pure Haven
Pure Haven is an MLM company that was formed in 2016. According to the Providence Journal, this company was formed after Ava Andreson Non-Toxic shut its doors by the same people. So essentially, it was a rebranding/replacement of Ava Anderson Non-Toxic. Ava Andreson Non-Toxic's claim to fame is that it was founded in 2009 by 15-year-old Ava Anderson. The goal of the company was to sell many health and beauty products that were non-toxic, as the name suggests. The company had immediate success. It seems that the company may have closed in 2016 due to many different allegations about the products that were harming the company's reputation and reopened as Pure Haven.
Despite being a well-established MLM, there is no public income disclosure statement. I did reach out for a copy but did not receive one.
8. Scentsy
Scentsy is another well-known MLM and it was founded in 2004. They sell a variety of products and are well known for their wax melts. They also have a wide variety of essential oils available for purchase.
Scentsy does have an income disclosure statement, they group their consultants into two groups based on the length of time they have been with the company. New consultants on average earn $300 per year, before income, taxes, and expenses. See my full analysis of their 2021 income disclosure statement here.
9. YOR Health
YOR Health is a multi-level marketing (MLM) company founded in 2008 by Sophia and Dennis Wong according to their LinkedIn Pages. They have a large selection of essential oils under the brand Bare Oils, including blends and single oils.
The company does have an income disclosure statement. According to their 2021 income disclosure the Median earnings of all YOR consultants was $0 (this means over 50% of the people earn $0). You can see this in the section labeled Quarterly Disclosures on the second page of the PDF.
10. Young Living
When I think about essential oils, Young Living immediately comes to mind. In fact, when I went to Canva to make an image for this blog post, a lot of their stock images for essential oils were Young Living.
Young Living was founded in 1994 by Gary and Mary Young, a married couple. Mary still serves as CEO in 2023. They have had a few legal issues over the years, including a 2017 ruling that forced the company to pay back $760,000 for illegally trafficking wood oil.
A copy of their income disclosure statement can be found here. In 2021, the median earnings of all Young Living market partners were $0. This means that more than 50% of the Market Partners had no revenue from their Young Living "business". Their compensation plan is linked to my MLM Library.
11. Youngevity
Youngevity is another longstanding MLM, it was formed in 1996 by Dr. Joel Wallach. This company sells a huge variety of products from cleaning products to health products and essential oils.
Despite being a well-established MLM, they do not have an income disclosure statement.
My Opinion – Should You Join an MLM?
If you came here looking to join an MLM, I'd love to give you just some food for thought and some resources for further info if you're interested. I personally would not recommend anyone join an MLM, but I know some people feel differently. Please keep these things in mind:
If you join an MLM – the primary way to rank up and earn money is by recruiting others to join the MLM. You do not earn money from sharing products and you earn limited commissions from selling products alone.
The person that recruited you is your upline. For them to rank up, you need to rank up. So even if you just want to join to earn small commissions from selling products, those above you are motivated to pressure you into recruiting.
You'll have a personal volume (PV) minimum each month. This may result in you purchasing products to meet these volumes to remain active.
If you do decide to join, please start a notebook, Google Sheets, Excel sheet, or something that is tracking each dollar you spend and what commissions you are earning. Statistically, you're likely to lose money in an MLM. The more you track and understand your spending and earnings, it will make it easier for you to assess if you should continue.
Check out this article from the FTC, and remember, even if the essential oil MLM companies don't meet the legal definition of a pyramid scheme, it still doesn't mean it is a good use of your time.
Essential Oil MLM Companies Wrap Up
It is my opinion that the multi-level marketing industry is generally unethical. The people recruiting others to join their downlines are generally deceptive about what it takes to rank up. They often will say if you share the product, you can earn money. But you need to sell the product to earn a little bit of money. And to earn a lot of money you need to recruit many others.
I'd love to hear from you if you have questions, comments, or differing opinions. Find me on Instagram, Facebook, or email me by going to my contact page.